Show Services
---
Equipment
Booth packages for tables and chairs are included with your contract.  Please note that we do not permit "pirating" of tables and racks. Once the show floor is set up, each booth will be inventoried to ascertain equipment and order accuracy. Charges for additional tables and racks will be assessed.

RPMXpo is pleased to serve as the Official Service Contractor for Cobb Tradeshow (AAE)





Additional Booth Equipment:

RPMXpo Main Site

RPMXpo Services Brochure

Order On-Line

For questions on exhibitor services, contact: RPMXpo Customer Service at 770-686-6512.
---
Electrical, Plumbing and Telephone Service
Cobb Galleria Centre provides electrical, plumbing and telephone services. Visit Cobb Galleria On-Line Ordering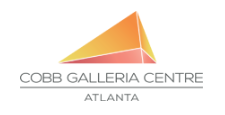 ---
Set-Up Times
COBB is proud to offer a full 12 hours of set-up time: Saturday 9am - 9pm, the Saturday before the Sunday/Monday show.
---
Shipping
REMEMBER: All shipments of materials, samples, etc., must go to RPMXpo! Make your arrangements in advance; any materials sent to the Cobb Galleria Centre will be returned.

The UPS Store (in the Renaissance Atlanta Waverly Hotel & Convention Center) offers SPECIAL PRICING for COBB Tradeshow. View 2018 Rates
---
Questions? Contact Reza Lovestrand: Reza@COBBTradeShow.com or 404-935-8876